Post Indicator Valve - Flanged
PIF
Technical Features
Sizes available (Nominal) :

2"/DN50, 2-1/2"/DN65, 3"/DN80, 4"/DN100, 5"/DN125, 6"/DN150, 8"/DN200, 10"/DN250, 12"/DN300, 14"/DN350, 16"/DN400, 18"/DN450, 20"/DN500 & 24"/DN600

Working pressure :

4"-12": 21 bar (300 psi) 2", 14" & 16": 17 bar (250 psi)

Seat type :

Resilient wedge

Finish :

Fusion bonded epoxy coated internal & external

Connections :

Flange diameter and thickness according to ANSI B16.1 Class 125, EN1092-2 PN10 or EN1092-2 PN16

Specifications :

Design and dimensions conform to AWWA C515

Operation :

For use with IPV (≥ 4") or IPW indicator posts

Remark :

No post flange supplied with 2"-3" and 14" and above, and size 2" is FM approved only and size 5" is UL listed only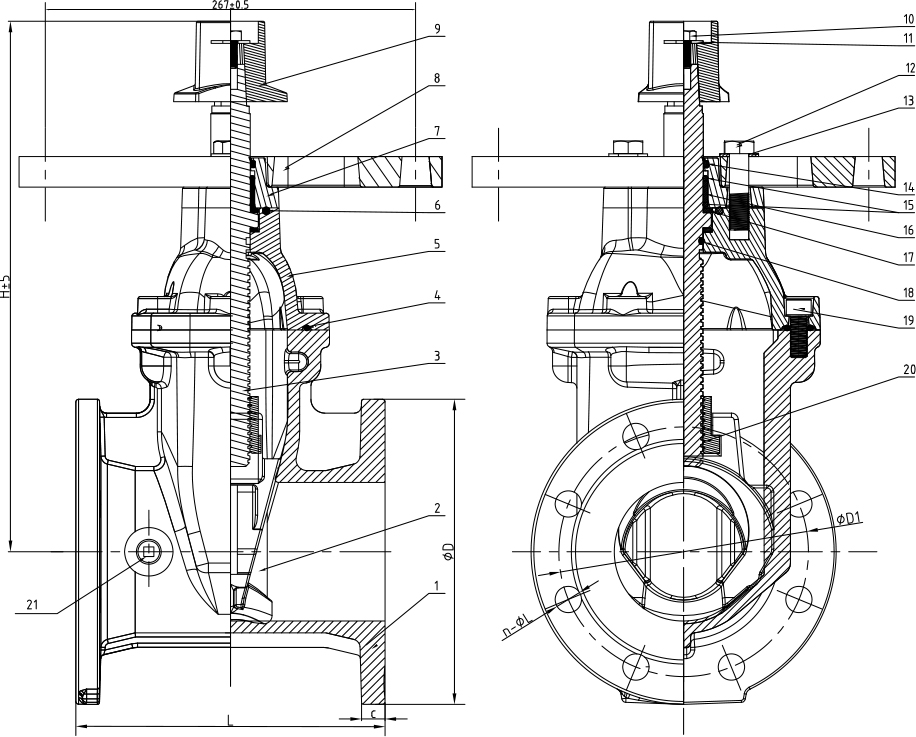 * Image depicts 4"-24" sizes, 2"-3" and 14" and above are supplied without a post plate and should be used with a T-Key
---
Post Indicator Valve - Flanged - PIF
Physical Data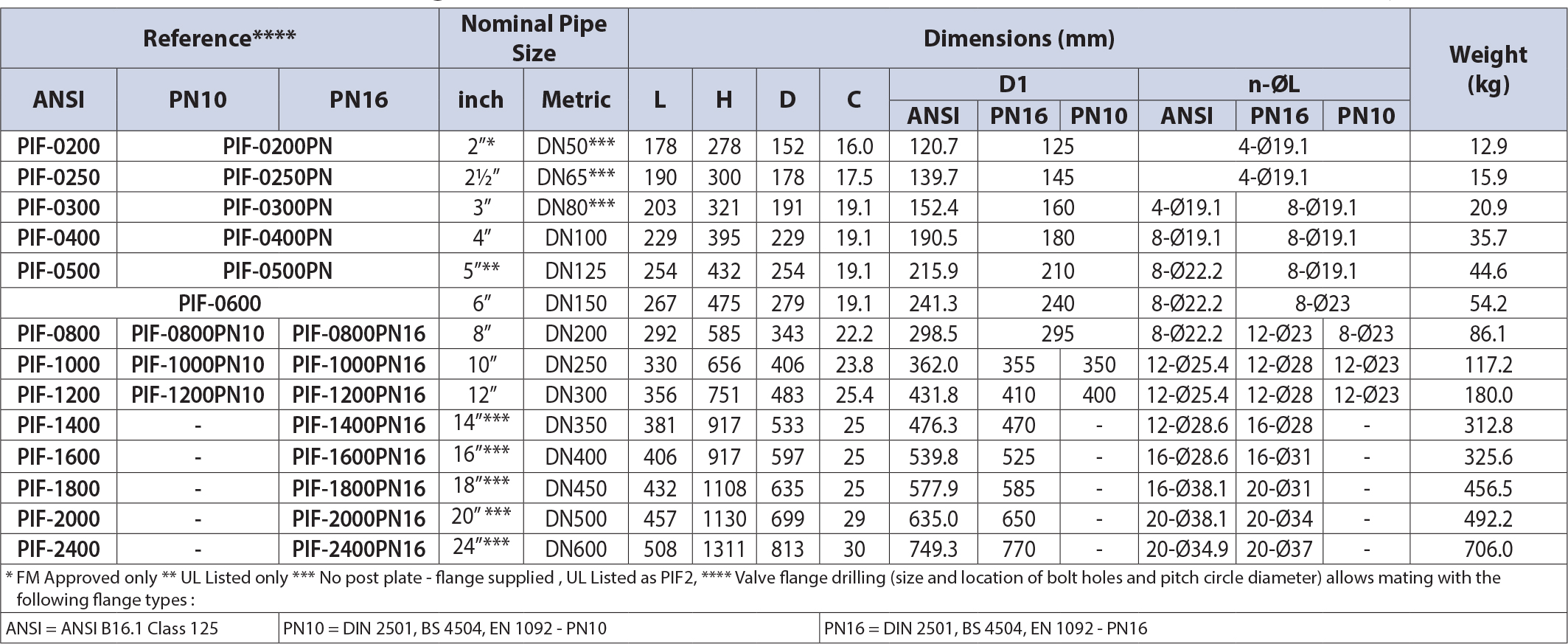 ---
Post Indicator Valve - Flanged - PIF
Materials List
Installation
Piping systems and valves should be thoroughly cleaned and free from ingress of foreign materials.
Visually inspect the valve seating and ports for cleanliness immediately prior to installation.
All valves should be independently supported against movement and stress from the connected piping system.
Ensure that the valve pressure rating is compatible with service conditions.
Operate the valve at least once from the open to closed position.
Gate valves are not suitable for throttling applications.
Gate valves should be installed in the vertical position on horizontal pipework and in the horizontal position on vertical pipework.
See indicator post datashet for further installation instructions.
Inspection and Maintenance
Valves should be inspected periodically and should be cycled to prevent buildup of foreign materials in the piping system and valve body.
Operation
Gate valves are manually operated multi-turn valves and are opened by a handwheel or other operating device, generally in a counter clockwise direction and then closed clockwise