King Abdulaziz International Airport
Introduction
The General Authority of Civil Aviation (GACA) assigned to SBG the development of King Abdulaziz International Airport (KAIA), Jeddah, into a domestic and international hub airport and to remain the gateway to the holy cities of Makkah and Medina.
The proposed massive expansion will enable the airport to increase its annual capacity to 80 million passengers and to receive large jumbo jets.
The EPC Contract for phase‐1 of the KAIA expansion project has been awarded to Saudi Bin Ladin Group (SBG).
Dar Al Handasah (DAH) are assigned, by GACA, as the Construction Manager for the Phase‐1 project.
As part of KAIA expansion project, it is required to construct a new Aviation Fuel (Jet A‐1) Farm with a total storage capacity of 80,000m3 which will receive Jet A‐1 through new underground pipelines from the existing North Jeddah Bulk Plant (NJBP) of Saudi Aramco.
AL ASWAD Trading and Contracting Establishment has been awarded, from SBG, a turnkey EPC contract for the execution of all electromechanical works related to the new Fuel Farm.
The new Fuel Farm will have all independent facilities including utilities, buildings, infrastructure, fire fighting and other supporting facilities.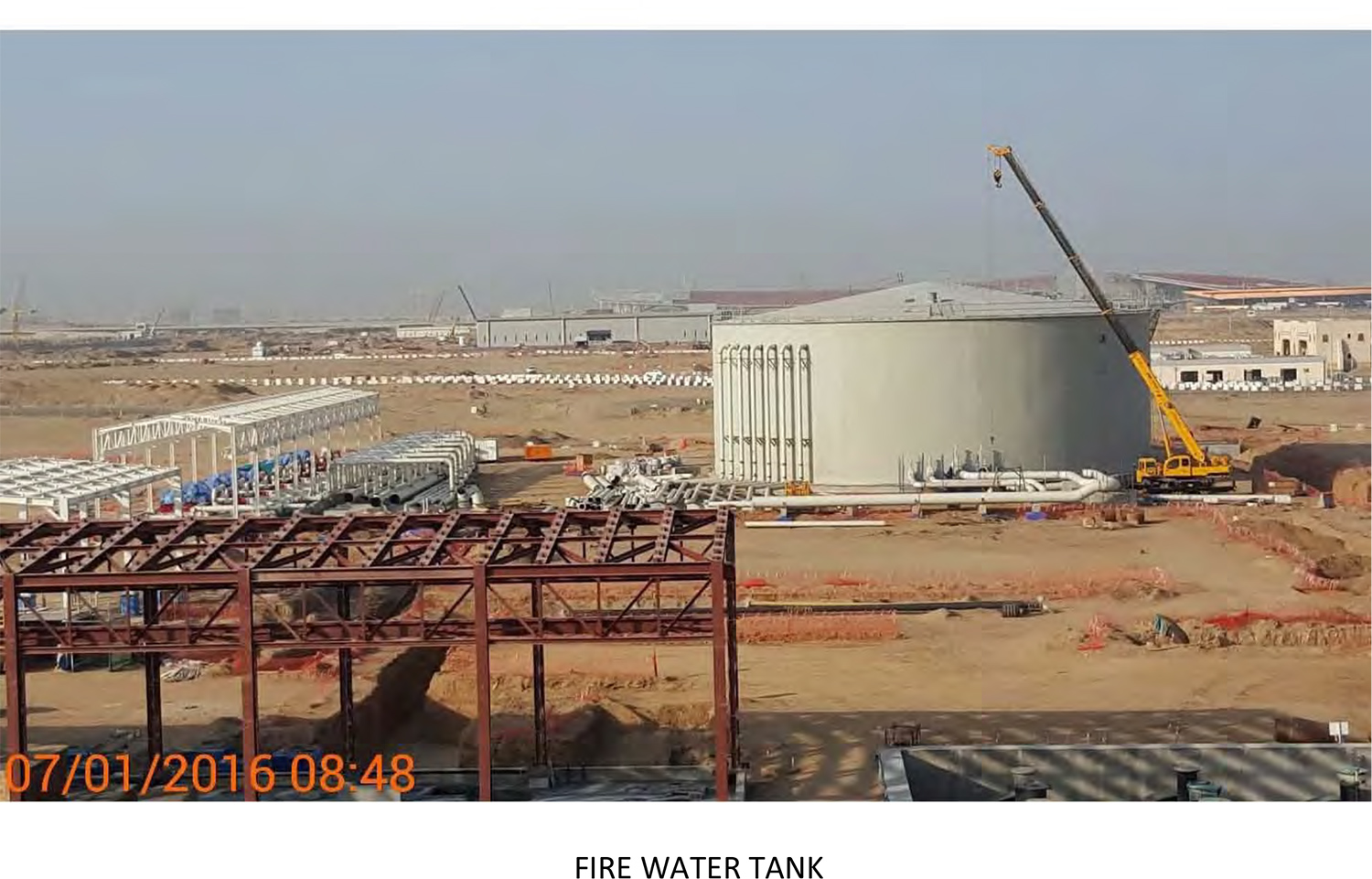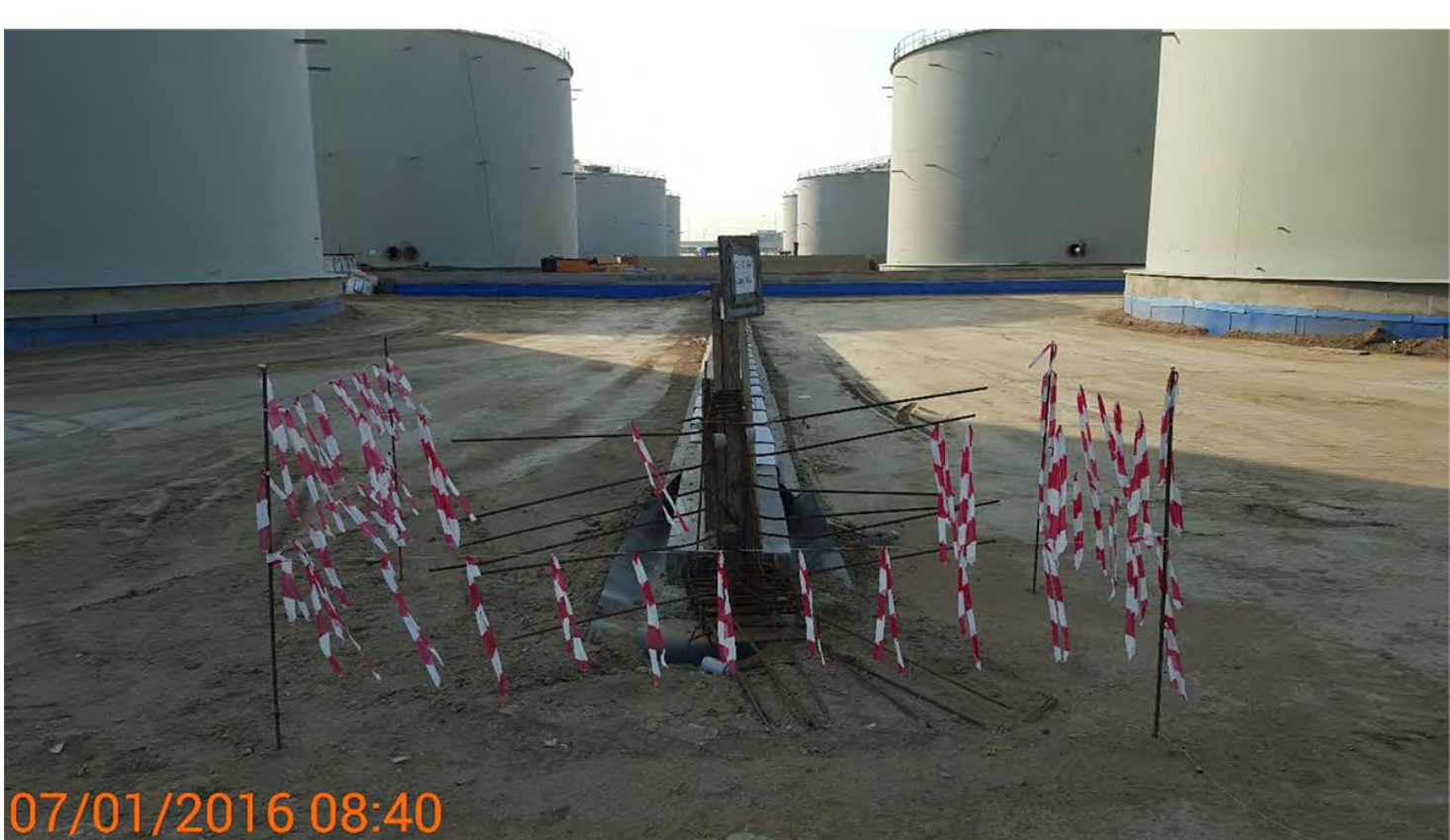 Fuel Farm Facilities
The proposed facilities in the Fuel Farm are:
Pipeline receiving facilities, consisting of 2x20" incoming pipeline, ESDVs, Scraper Receiver and accessories, Flow meters (ultrasonic) with provision for proving, Inlet filter skid consisting of Pre‐Filters and Filter water coalescers, associated piping, valves and instrumentation.
Jet A‐1 Storage tanks consisting of two (2) groups, each of four (4) vertical cone roof Tanks, with a nominal capacity of 10,000m3 complete with accessories and instrumentation. Each tank is fitted with Two (2) Nos. 24" SS304 floating suctions for Jet A1 intake.
Hydrant pumps consisting of T e n (10) Pumps – centrifugal type, each of capacity 390m3/hr at delivery pressure of approx.15 Bar + Two (2) Jockey Pumps of capacity 10 m3/hr to maintain the pressure in the hydrant network at the desired value (12barg), in case of marginal fluctuation in pressure.
10 Filters / water Coalescers, rated for 400m3 /h capacity and 18barg pressure, complete with all instruments and accessories.
Above and underground piping, internally lined and externally painted or 3LPE coated, if underground, sizes ranging from ½" to 40" and for interconnection from the scrapper receivers, at the Fuel Farm inlet, to the inlet filters and continuing up to the storage tanks inlet nozzles. Then from tanks outlet nozzles up to the pumps, then filters and water coalescers and up to the hydrant network, feeding to the airplanes.
Fire Water/ Foam System consisting of: 1 No. 11,000 m3 capacity Fire Water Storage Tank, 7 Diesel Engine driven Fire Water Pumps, 900m3/h capacity each, at 10.5barg, with 2 electric motor driven Jockey Pumps, Monitors, Hydrants, Fixed foam waterspray systems and foam systems for storage tanks, Fixed foam system / chamber for the dike area and Fixed foam/ spray system for the Road Tankers.
Two (2) bays of Refuellers loading station with custody meters, pre‐set valves, batch controllers, bottom loading arms and related devices and accessories. Also a Defueling station for pit flushing vehicles or for collecting the fuel returned from aircraft (after testing and permission) is part of the scope of works.
Multipurpose receiving tanks and systems that can be used for product recovery, defueling or other fuel quarantine requirements. These underground tanks, of 100m3 capacity each, are provided with pumps, accessories and instruments.
Drain tank (Slop tank) & disposal facilities. Slop is the mixture of HC + water +impurities mainly from the filter coalescers and the suction strainers of the Pumps.
Diesel – Road Tanker unloading and storage facilities, needed to supply diesel to the Generators and Fire Water pumps. Capacity of this tank is 175m3.
Oily Water underground carbon steel, externally coated piping network and Gravity Separator, with rated capacity of 250m3/h and 5ppm oil traces in discharged water, complete with parallel plates packs, polishing arrangement and oil pump with level transmitter
Service (Potable) water system, above and underground, designed for provision of fresh water to the facility work areas.
Tank Gauging System consisting of radar type transmitters with temperature and pressure transmitters with tank side monitors, scanners, data concentrators, workstation and server.
SCADA / PLC based Control System for process as well as for Fire and Emergency shutdown system, consisting of redundant hot standby PLC arrangement, for each of the Process Control and for the Safety systems and complete with SCADA system, inclusive of HMI workstations, Servers, Communication facilities with third party systems and airport main control system.
Metering systems, at Fuel Farm feeding and discharge lines, ultrasonic type and communicating the readings to the Process Control System.
Four Electric substations inclusive of Main Switch Boards and 2 transformers of 13.8KV/4.16KV and 5MVA capacity, in addition to 2 transformers of 13.8KV/0.4KV and 1.5MVA capacity.
MV switchgear to operate the 10pcs Jet Fuel hydrant pumps.
LV switchgears and distribution panels to supply LV power to all the facility and complete with power factor correction unit.
Electric power distribution cables with necessary conduits, cable trays, ladders, terminations, etc.
Standby power generators, one of 4.16KV and 2500KW and the second is of 400V and 800KW.
Piping Works
The piping fabrication and installation works are estimated to be around 85,000 Dia Inch with pipes sizes ranging from ½" to 40".
Jet A1 piping systems 4" and above are made of Carbon Steel Internally Lined while 3" and below are made of SS316L materials.
Fire Water piping systems are made of GRE for U/G pipes, while above ground pipes range from black steel to galvanized steel and SS316 for foam concentrate.
The piping works include supply and installation of specialty valves as:
24" and 20" Double Block and Bleed Plug Valves
24" Safety Check valves
24" and 20" Emergency Shut Down Valves ESDVs consisting of Ball Valves with Hydraulic Actuators and Power Pack Units.
Self Actuated Control Valves